Last night,we went to Southbank for Night Noodle Markets. A lot of people were there and 30 stalls opened and provided various kinds of food, such as Japanese Ramen, Japanese Style Pizza, Chinese Xiao Long Bao  etc. We enjoyed this kind of  vibrant aisan hawker  market atmosphere. I think that was more people in there than last year.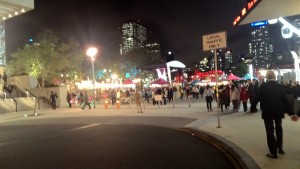 This year, I think the event organizer  did a better job. There are some improvements. Firstly, there are more tables and chairs for visitors. We sat and enjoy our food. Moreover, there are some performances too, I saw illuminated lion dances. Those two illuminated lions were walking around the whole market. Everyone loved them, they passed by. Everyone took his/her phone to take photo.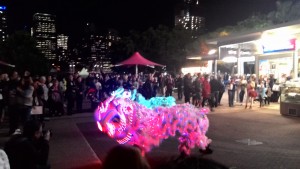 Lastly, this year, most of stalls accept credit cards and paypass. I love this kind of cashless arrangement. Without changing cash speeded the queue.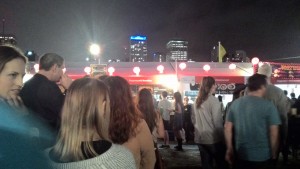 For the food, we tried two stalls. The first one was Chicken Teppanyaki ($13) Noodles. I love this kind of stir fry noodle. They were freshly cooked and I felt the hot temperature from the noodles. Also, Teppanyaki sauces is very tasty.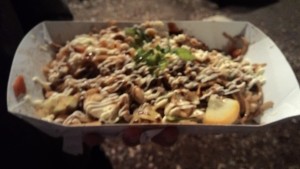 Secondly, we tired Hoy Pinoy. They are from Melbourne and travel up to Brisbane and make Filipino street bbq skewers. We saw them put two big Charcoal grills next to the stall and kept to make skewers. The skewers smelled good.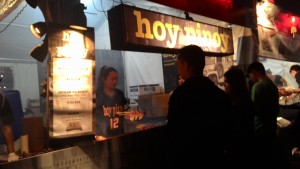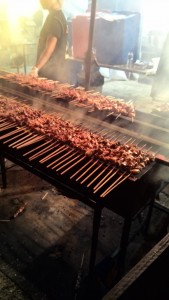 Finally, we had chicken and pork BBQ skewers ($12). the sauces on the top was good. That has unique Filipino flavours.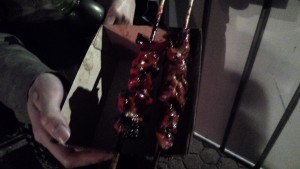 Besides of them, I saw there are some interesting dishes. There are korean and chinese small burgers. They looks quite interesting and mixing the traditional aisan cuisine with burger. At the end, I felt they are a bit expensive, around $10 for a palm size burger.
Lastly, a thing you need to be aware. Most of stalls have a long queue. I spent around 15 minutes for waiting in each stall. Please provide more time for this.
From today until 2 August, every night, the market will open in Culture forecourt in southbank
Free Entry
Openings Hours :Monday to Thursday: 5pm til late, Friday: 4pm til late , weekends: 2pm til late