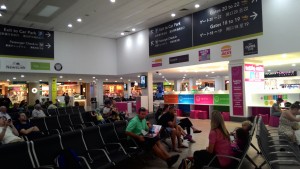 Last week, we went to Cairns for holidays. We stayed in a hotel at Cairns City. The first problem we had how to go to our hotel from Airport. We did some research.  Taking a coach bus sounded a cheaper option, the most expensive is $19 and the cheapest one is $10. I travelled with my wife, therefore, that was around $20 which is a reasonable amount. However, I landed at 9:30 am and we booked a pickup service to Skyrail from our hotel at 10:40. That was very rush.  At the end, I chose to take a taxi.
I found that is a better option than by a coach. The taxi trip was around 10 minutes from airport to Cairns City, and only costed $25, which is included $4 airport access fee.  If you travelled with someone, that is a similar price to coach and that is faster. Sometime, coach required to drop off other passengers at a number of hotels. Taxi will drop you off to your hotel directly.
That was a good option for us. As a result, we took a taxi from our hotel to Airport. The airport fee access is only applied all taxi getting out from airport, not entry. So, end up, our taxi fee is cheaper, only $20. If you stay in Cairns city and need to go to/out from Airport, I think  taking taxi will be a good option for you.
(Note that: most of hotel receptionists will help their guests to call a taxi, please note that, there will be extra $1.50 as the call out fee. If you are willing to walk a little bit, there are a number  of taxi ranks in the City)