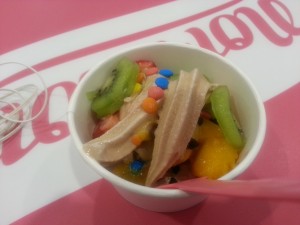 Frozen Yogurt has been popular in Hong Kong for a while. Last year, I was in Hong Kong, I saw a lot of Frozen Yogurt in there.  In recent years, it becomes popular in Brisbane too. All major shopping centers at least have one Frozen Yogurt.
Well, I wish to have one too! So, I bought a groupon coupon, for Nominom. That is $3 coupon has $6 value! And few weeks ago,  I went to there for a trial.  The way to buy frozen yogurt is interesting. They are not selling Frozen Yogurt per cup. The price is counted by weight, $2 for 40g. You can freely choose any frozen yogurt base with the topping.  I got $6 voucher, therefore I could have 240g.
I chose Coffee Frozen Yogurt as the based. Choosing topping was a bit headache. So many choices, there were various selections of fruits, candy and chocolate.  Finally, I chose some M&M, chocolate with some of mango and kiwi fruit. I got the job done, that was my frist frozen yogurt.
Nominom Shop
2B 131 Elizabeth St, Brisbane QLD 4000