Today is ANZAC Day which is a national day of remembrance in all Australians and New Zealanders who served and died in all wars, conflicts, and peacekeeping operations.
Thus,this morning, I went to City for ANZAC Parade. I wish to pay tribute to the men and women to service the country. The parade is very large, that was about 125 groups to join this parade.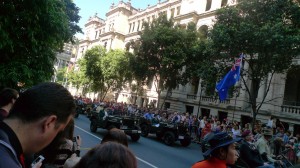 Firstly, the first group in the parade are some world war I and II ex-service men and women.  Also, I found there was British ex-service men and women in the parade.