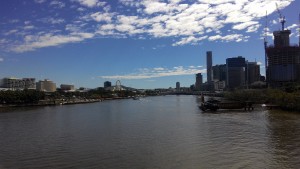 If we go to City, we won't drive unless that is weekend or evening time. Normal weekdays, that is very expensive. It can cost you $15 per hour. Taking a bus is a more affordable option.
If we go to City during weekend or evening time, that is a different story. The parking fee will be $12 per day. Moreover, if you book online, there will be further discount. Last week, we went to Night Noodle Markets at Southbank. We used Secure parking, and booked a spot online. I parked their SW1 car park just behind convention centre. That was only $5, which is cheaper than bus fee. Also, that is very convenient. I made a booking online a few hours before our arrival. Then the system will email a PIN to me. When I enter the car park, I just need to put the PIN in the gate. That is easy
In conclusion, our suggestions is taking a bus to City during weekdays. If we go to City during weekend or evening time, you can consider to make a booking online and drive. If you travelled with at one person, that is cheaper.