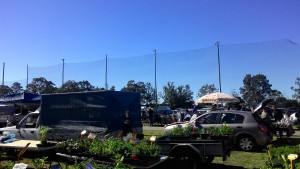 A lot of Australian love to shop in Flea Market. There are a lot of small stalls. The price of goods is cheaper than the large shopping center. Shopping in there is like a treasure hunting game
In Brisbane area, there are a number of flea markets. Last sunday, we went to a flea market nearby,Mt Gravatt Showgrounds Sunday Markets.
That is a quite big larger than Kuraby Farmers Market.  You can find any various kinds of goods in this Market, such as Plants, honey, meats, and even solar panels. Moreover, I found this market has a lot of stalls to sell second hand goods, included clothing, furniture and garden tools. You may be able to find some good stuff in there.
The key part is fresh vegetables and fruits. A lot of farmers rent the stalls. Those fresh vegetable and fruits directly sells to the customers. Thus, the price is lower and the vegetables and fruits are much fresher! That is the main reason we went. We bought some oranges around $1.5 per kg, that is cheaper than supermarket!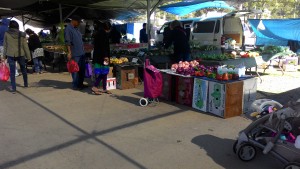 There is a thing you need to be aware. The entry fee is $1 per person (not per car)!
Shopping in flea market is fun!
Mt Gravatt Showgrounds Sunday Markets
1644 Logan Road(Enter via Boardwater Road)
Mt Gravatt
QLD 4122