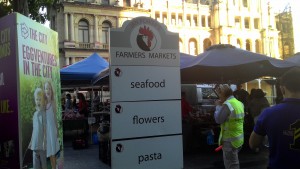 Brisbane really has a lot of flea markets, I think most each suburb has a flea market. Even Brisbane city has one too! Every Wednesday, from 10am to 6pm, Jan Powers Farmers Markets setup stalls in Raddcliffe Place where is at the end of Queens Street, in front of the Treasury Casino.
Stalls included fresh fruit and vegetables, fresh juices, flowers, pasta and seafood.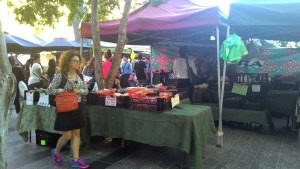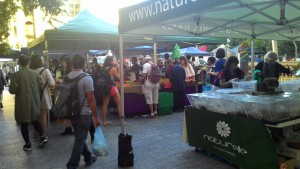 That is a good shopping experience. Moreover, the market located in the heart of Brisbane, about 3 minutes walking distance from Queens Mall Bus station. If you visit Brisbane and stay in a hotel in CBD. That is a good spot to visit. You can go to southbank after visiting that market! That is quite great! However,  that market is not very big. If you have time and keen on shopping in flea markets. I recommend you go to other flea markets in suburbs, such as Brisbane Markets in Roclea.
Jan Powers Farmers Markets @ Brisbane CBD
Raddcliffe Place, Brisbane, QLD 4000
10am to 6pm (Every Wednesday)