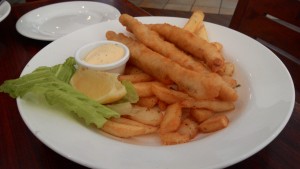 I and my wife quite like Harbour Town, there are a lot of factory outlets. We went to there for shopping every few months.
Last Saturday, we went to there again. After shopping for a while, I felt hungry and tired. I really needed a place to sit down and have a lunch. The best place for those purpose is  Fasta Pasta which is a very comfortable dine-in restaurant.
Moreover, there are discounted lunch sets just around $10. I had a Fish&Chips for $10.90 and a coffee too! They were very tasty! I love the chips, they were very crunchy!
Lastly, I joined RAQC Dinner Reward, I can get 20% cash back!
I think the most of times we went to Harbour Town, we chose Fasta Pasta for lunch!
Fasta Pasta
Harbour Town Shopping Centre (At the Reading Cinema Entrance))
Cnr Gold Coast Hwy & Oxley Drive
BIGGERA WATERS
QLD 4216
Tel:07)-5537 5778