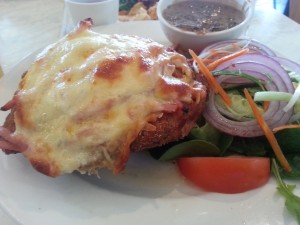 A lot of my friends and I love Morrison Hotel. My friends say that is the best streak house in Brisbane. When I was in university and worked there late, my unimates and I went to this restaurant for a late dinner. That was because it was very tasty and near my university.
After I graduated, I did not go to Southbank that often. That was until recently, when I had a chance to visit there again! That was another amazing lunch! I had a chicken schnitzel. That was crunchy! Moreover, that was with the mushroom sauce, which was great! I loved it, a lot of mushrooms! Lastly, the size was so big! After I had that, I still felt it until dinner time!
That was an enjoyable lunch! However, I wish to remind you, this restaurant has not many parking spots and nearby areas have any free parking spots too. Please be aware of that!
Address: 640 Stanley St
Woolloongabba, QLD, 4102
Telelphone: 07-3391 1413