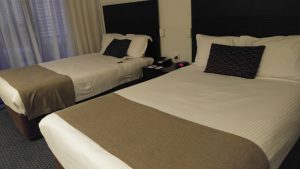 Last week, we brought a night of Mystery Hotel deal from Wotif for our stay in Gold Coast. This kind of Mystery Deal is very interesting, the website won't tell you which hotel you will have before the payment is completed. Only the roughly location, such as Sufers Paradise South or Boardbeach, star rating of hotel, some facilities details are listed with the deal. Buying this deal sounds like playing lucky draw, that is fun.
We spent $111 for a 4.5 star  Mystery Hotel deal at Surfers Paradise South.  End up, we got a night in Crowne Plaza at Surfers Paradise.  That is quite good, we got a big room, it got double beds. I think this room can  accommodate up to 4 people, but the bed is double size, not king size. If you choose to have 4 people, may be that is a bit small. We got 2 people, that is very good enough for us. This room is already a Superior Room(Normally, $151 per night,save $40 per night), which is bigger than a standard room.

Also, it got a balcony which has a view of surfers paradise, although, that is not a ocean view room, I was still able to see the beach front.
For bathroom, that is very clean. The floor sounds like making of marble. That is very very good.
Apart from the room, the hotel got some facilities, such as tennis courts, pool and gym room. That is a 4.5 star hotel!
Also, I got their reward club. Then I got a free wifi too.  It got 3Mbps download, that is not too bad. If you are willing to $19 per day, you can have a better speed wifi.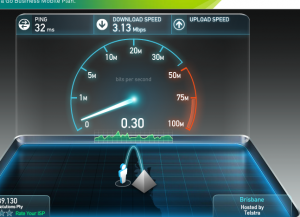 The club rewards included a late check-out! Instead of a standard 10am, we can checkout before 11.30am without any charge.
That is only one disadvantage, which is not free car park. You need to pay $15 per day for parking, but that is a undercover and lock-up car.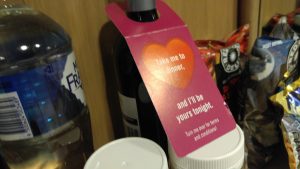 Lastly, you have to pay attention when you enter the room. You will see a bottle of wine sounds a free Complimenting  wine. That is a free with terms and conditions.  That is only free if both of you go to the Four Winds 360° restaurant at the top level and have their seafood buffet, then it is free. Unless you open it, then you need to pay $30 for this.
Generally, we had a very very enjoyable stay in this hotel!
Address:
2807 Gold Coast Highway
Surfers Paradise
QLD 4217