This afternoon, I and my wife went to a new Japanese Restaurant in Runcorn Plaza.   The atmosphere is quite comfortable and the staff are friendly.  I like this restaurant.
After we scanned through the menu, we finally ordered a Bento special for $21.  That was a big lunch!
Firstly, we had a streamed egg. Yummy, inside the egg, it had a mushroom and prawn!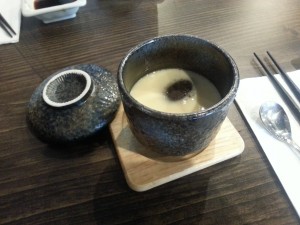 Secondly, the main bento box arrived with miso soup.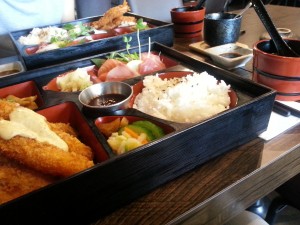 That was huge, a few piece of chicken, a piece of fried chicken fillet and two prawn,a bowl of rice , salad and sashimi. This portion made me feeling full until 7pm! This was not just big, it tasted good too! I love those two prawn. They were lovely with salad sauce!
The sashimi were very fresh and good! They worth five stars!
They was an enjoyable lunch! They are my top ten japanese restaurants in South side. Today, we were quite rush, I wish we can have more time to enjoy the food next times.
REN Japanese Restaurant
Shop 20, Runcorn Plaza
258 Warrigal Road,
Runcorn QLD 4113
Tel: 07038418889