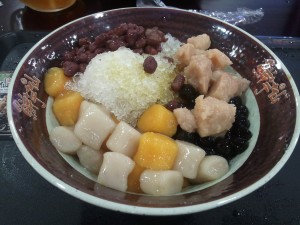 Last Saturday, I finally wend to the new dessert shop, MeetFresh, at Sunnybank.  I had their Taro Balls No.4 which included Taro, Red Bean and Pearls. That is very tasty. I love Taro Balls a lot. That is like jelly, I love this kind of texture! Moreover,  this dessert is not too sweet, its sweetness is just good enough! Besides, that is suit for my taste. It has my favorite dessert ingredient, Red Beans. I love all kinds of red beans dessert!
In addition, the price is fair too. A bowl of Taro Balls cost around $5,  and $1 extra with a discounted drink.  Note that, my friend like their dessert more than their dessert.
Lastly, their seat is quite wide. That is a good place for friends' gathering.  You can order a bowl of taro balls and have some chit chat with a group of friends.
To sum up , their dessert is quite good and there is comfortable to sit. Thus, I think that is worth to try it out!
Address:
Shop 123 Suynnybank Plaza QLD 4109