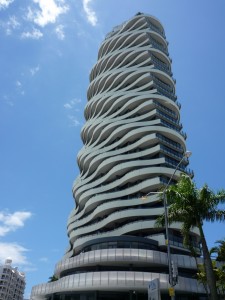 Besides of Surfer Paradise, I suggest you should visit Broadbeach too. There is a beach too. I went to there before, there is not bad, but Gold Coast area has a lot of beaches. It won't make it special.  The special things are the buildings.  There are some landmark buildings in there, such as Gold Coast Convention and Exhibition Centre, Pacific Fair and Jupiter Casino.
Moreover, during these recently years, many luxury hotels and apartments built in there too!  Their appearance are quite fancy. There is worth to have a look. The photo above is the one of examples.
Besides of buildings, there is a mono-rail system too!  It links between Jupiter Casino and Oasis Shopping Center. You can have a ride on it and enjoy the view of Broadbeach area during the trip.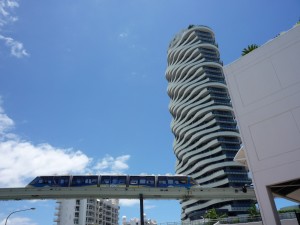 I think there is worth to spend at least  two hours, or having an afternoon tea in there. There are some good coffee shops in there too!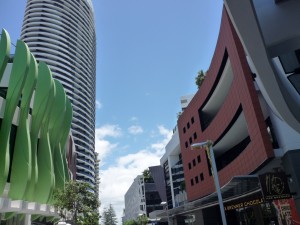 Please click here to view photo album of Broadbeach