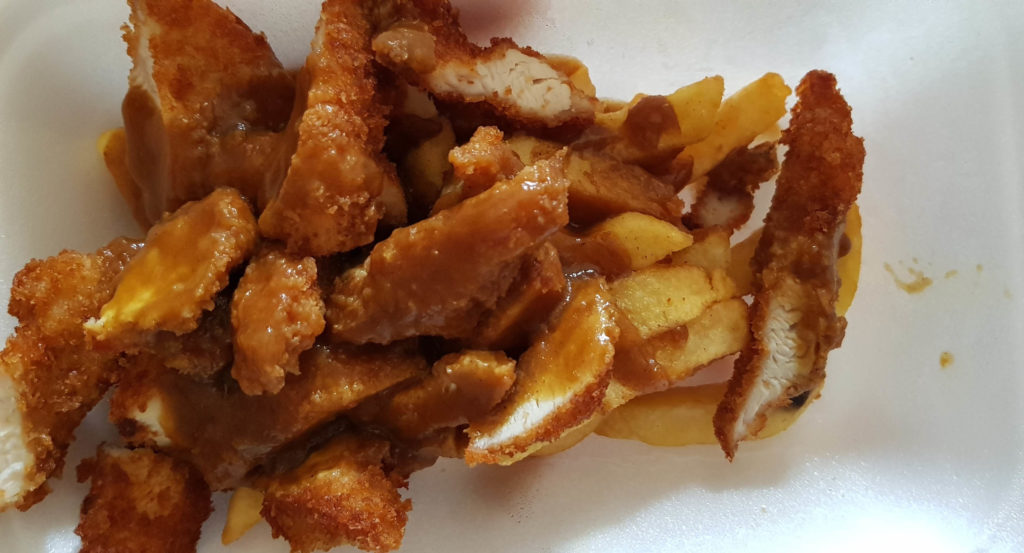 Mr. Curry is best-known for their budget Japanese-style curry-based lunches, and while in the past I've tried their $5 chicken curry rice and enjoyed it, it seems like that item is no longer on the menu.
Last week I passed their branch at Sunnybank Hills Shopping Town and saw that Mr. Curry was offering a new dish – chicken and chips (or salad instead of chips, if you're trying to stick to a diet) for just $5. I love chicken and chips, so I knew I had to try it, and I ordered the $5 chicken and chips meal deal.
The portion size was okay, the chicken was delicious, and the chips were hot and crispy – for just $5, this is a bargain deal for a quick takeaway lunch. I will definitely be ordering this again the next time I see a Mr. Curry store!
Mr. Curry in Sunnybank Hills Shopping Town is open from 9am-5:30pm on Mondays, Tuesdays, Wednesdays, and Fridays, 9am-9pm on Thursdays (late night shopping), 9-4pm on Saturdays, and 10-4pm on Saturdays. You can find it on level 4 of Sunnybank Hills Shopping Town, in the food court.
Mr. Curry
Shop 15A,
Sunnybank Hills Shoppingtown,
Compton Road,
Sunnybank Hills
QLD4109