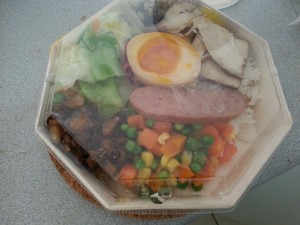 Last Monday, I have tried a special lunch box at  Half Time Tea Bar in Market Square. That is very value for money! It only costs $5.99. Although its size is not very big, it is big enough as a lunch box.  It has  braised pork, half of  a sausage, a few slices of tofu, half of  an egg, vegetables, beans and rice. Well we can have meat, vegetables, and a variety of side dishes. That is not bad for $5.99.
The most important things is its taste. It is not bad at all. I only paid $5.99.  I think its quality can be considerable as a "good" for $5.99.
If you are lazy to make your own lunch and do not want to spend too much on that, I think this bento box is a good option for you!
Address:
Shop 17, Market Square Shopping Centre,
Corner of McCullough St and Mains Road
Sunnybank,
QLD 4109
Tel:07- 3219 660