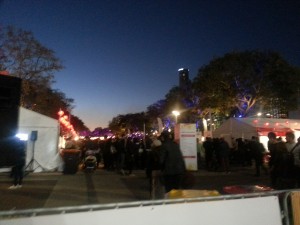 From tonight to 27 July, every night, a night market holds in Culture Forecourt, it calls "Night Noodle Markets".Actually, that is a major event during Good Food Month, Brisbane.
Last night, we went to that events. That was full of people and most of stalls had a few people lining in front of them. Moreover, there were a lot of various types Asian food,  such as Japanese Ramen, Dim Sum and Malaysia Roti. It looks like a Asian hawker market.
I and my wife tried a stall calls Okonomi, we ordered a Japanese Style Pizza. There were a long queue in there. We spent half hour for waiting.
No worries, the chief  used "stir fry" style for making Japanese Style Pizza is a kind of performance.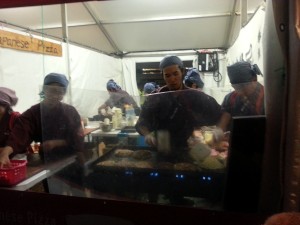 After 30 minutes, we got our Japanese Style Pizza. That looks a pan cake. A lot of creamy chesse and bacon are inside with soy sauces on top ! Delicious!  Moreover, It was very warm. Last night, the weather is so cold, after we ate that, we felt warm again.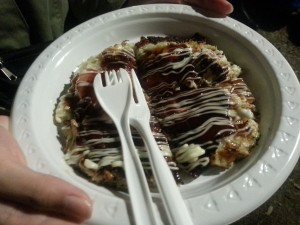 Besides of the food, that is a festival too. A lot of Asian Style Lanterns  are hanging around the culture forecourt.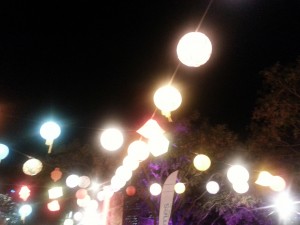 I felt like going back to Hong Kong during Mid-Autumn Festival.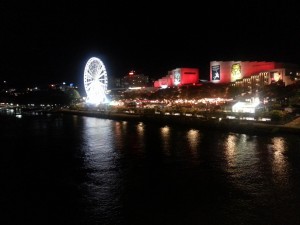 Well, you can see the whole southbank was lighted up!
Good Food and Fun,So I think you should not miss this event!
Opening hours:
Monday and Tuesday: 5pm – 9pm
Wednesday: 5pm – 10pm
Thursday and Friday: 5pm – 11pm
Saturday: 4pm – 10pm
Sunday: 4pm – 9pm