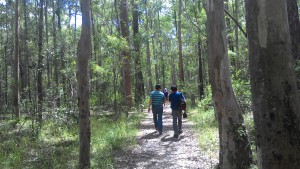 Recently, I found a good spot for bushwalking. That is in Daisy Hill,Daisy Hill Conservation Park. There are a lot of tracks which are good for bushwalking,  That is very easy to walk, there are not many slopes required to walk.

The most of tracks have trees to be covered. You need to be too worry about the sunburns.Of course, the sunscreens are required.
I have spent about two hours walk in there, that was enjoyable. Note that, the tracks are shared by cycle and horse riders.
In addition, this park is not far at all, about 15 minutes driving springwood and plenty of parking spots. This park is the hills road in Daisy Hills, which is around exit 24 of pacific highway, you can follow the signs when you are off from Pacific Highway.