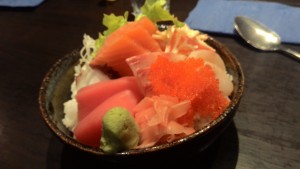 Two weeks before,  I went to Hana Zushi for dinner. This restaurant has opened at Sunny Park for a few months. I can still count that one as a "new restaurant".  Thus, that was a quite excited to try it.
I tried a Sashimi Rice. That was not bad at all. There was a lot of salmon and tuna sashimi. They were very very fresh and tasty. However, the rice is not quite enough. If there could be more rice, I would feel full after that dinner.  Because of the large amount of sashimi, it costed $22.
I found there are a few of lunch sets , such as  curry chicken and  katsu don, are in a good price too, about $13. If you found their dinner is quite expensive, you can try their lunch.
Anyway, I spent $22, I still believed that was value for money. The environment is very comfortable and not very busy at all. We spent about three hours in there. I reckoned that is a good place for gathering with friends!
Hana Zushi
Shop 24/27 Sunny Park Shopping Centre,
342 McCullough Street,
Sunnybank
QLD4109
Tel: 07-33444999