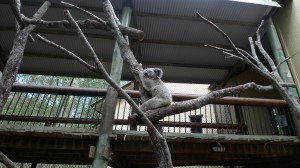 Today is the Australia Day, which is the national day of Australia. Thus,  I planned to do something related with this theme.  Finally, I chose to visit Koala Center, we can see Koala, which is a unique animal in Australia!
At the end, I went to Daisy Hill Koala Centre. There are three koalas,Celeste,Faith and Elsa. I can see them from the two different level viewing boardwalks along koala enclosure. I think that was the sleeping time for them. All of them was sleeping at the tree, that is too bad.  Besides of the real kolas, in the center, there are a number of informative displays about the koala's life cycle and unique biology. That was a lesson about Koala.
That was a enjoy time. The center is very easy to access,  just about 5 minutes from Exit 24 of Pacific Highway.  That is the most important feature is  no admission fee . The  most of koala sanctuaries require an admission fee! Well, this one is an education center, there are only three koala and they do not allow visitors to to handle or pat the koalas. That is different from those koala sanctuaries. Anyway, we just want to visit Koalas and learn somethings about them, that is a right place to go!
Daisy Hill Koala Centre
Address:Daisy Hill Conservation Park,
Daisy Hill
QLD 4127
Opening Hours: from 10am to 4pm  daily (except Christmas Day, New Year's Day and Good Friday).