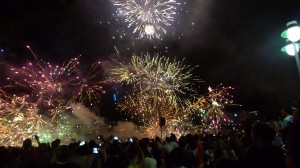 Last night, we went to southbank for watching firework. That was a great show!
At 11:59:50, the music  from the speakers was started.  We started the countdown too. At the midnight, the fireworks began! The firework was great, that was the best I ever seen in Brisbane. A ton of fireworks fired to the sky above Brisbane River, the whole sky was full of various patterns of fireworks. I have not seen large scale firework show in Brisbane before. That was very cool.
Moreover, there were some fireworks from the roof of high rise in CBD.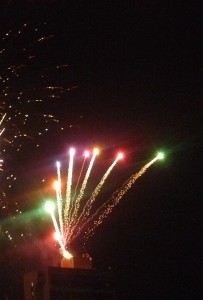 Some fireworks have sound too. When they fired, the fireworks created "Sa Sa" sounds, that is quite interesting.
I have seen a number times of firework display in Brisbane, the best one. Even transport arrangement is the best,  after 9pm, all public transport came free of charge. Thus, we took a free bus to southbank and back by a free bus too!
More photos of this firework display in my photo gallery.