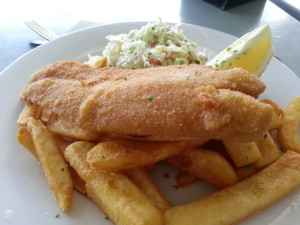 Fish & Chips is a famous dish in England. However, that is very famous in Australia too. I think that is because our Australia got a long coastal line and clear water.
Sometimes, I have fish and chips. My recently favor is Kiss My Fish in Rochedale. That is very tasty. Moreover, that is very value for money. There is a lunch specials for $9.90.
It won't cost you much, please don't think it comes with a small portion of food.  It has a full size fish fillet, salad and chips. Moreover, it  bundled with a can of soft drink! That is a very good deal!
Kiss My Fish
Address:
561 Underwood Rd,
Rochedale QLD 4123
Telephone:07- 3423 2227