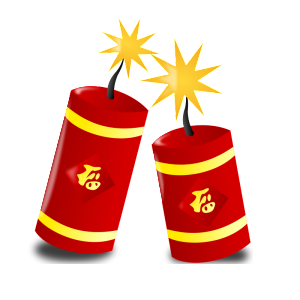 Source:Open Clip Art Using Under Public Domain Attribution
There are not too many Chinese people living in Brisbane, but we still manage to have a lot of fun come Chinese New Year!
We get to eat a lot of tasty dishes, because there are several special food items that only get served during the Chinese New Year period.
One of my personal favourites is the Chinese new year cake, also known in Cantonese as 'leen gol'. For those of you who prefer hot food, my favourite is the 'lor bark gol' otherwise known as radish cake. Yum!
Having a special dinner together is also a big and important part of Chinese New Year. You get to eat a lot of delicious food, like 'charsiu (Cantonese for BBQ pork) and roast pork. Oh dear, talking about all the delicious food available for consumption during the Chinese new year period makes me wish that it was Chinese new year again already; alas, it's just ended!
-Emily