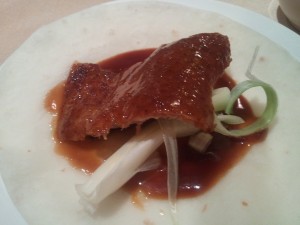 Last week,  we went to Big Gun Resturant for dinner again. This times is a bit special. We was having a Peking Duck. This is one of the most famous Chinese dishes.  Normally, that is quite expensive, but Big Gun Restaurant got a special, that is $38. The price is quite fair.  They used the duck to make two dishes.
The first one is the duck skin.  The staff was cutting the duck skin off. And putting it on a rice pancake with some sweet bean sauce. That is quite delicious.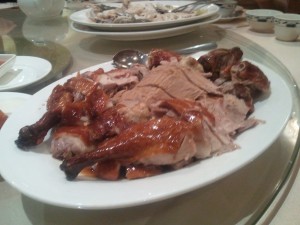 The second one is very simple. The staff cut the duck body into pieces.  Then you can enjoy the duck meat. That is quite good and a lot of meat. We have enjoyed a big dinner!
If you go to there, you  check it out. Let see whether that is on special.
Address:
Big Gun Chinese Restaurant
Shop 7, Big Gun Shopping Center,
2922-2926 Logan Road, Underwood QLD 4119
Tel: 07-32198868
Fax:07-3219 8863