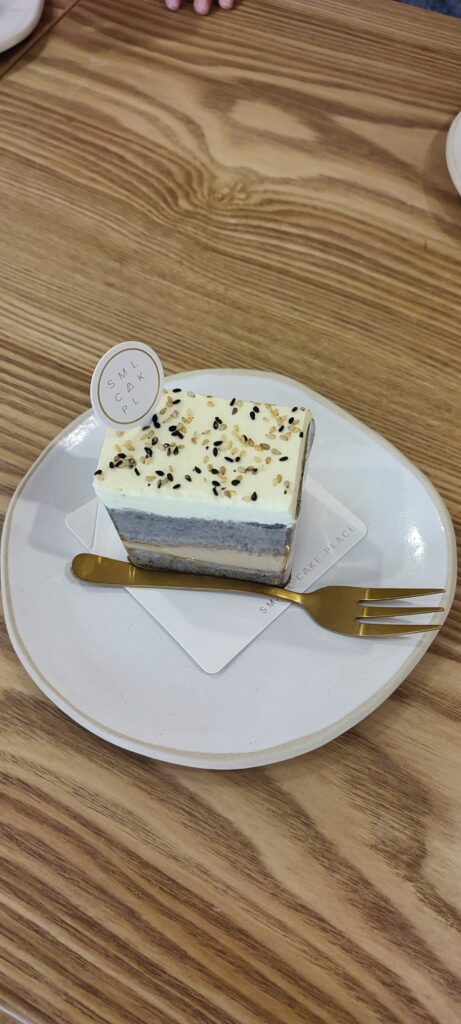 Earlier this year, at my friend's birthday party, I had a very delicious cake, and the texture of the cake was so soft that I thought it was one of the best cakes in Brisbane! So I asked where my friend bought it? It turned out to be one. It's called a small cake place. That shop was near the Fruit Grove train station, not far from my home.
A few days ago, I finally had the opportunity to try it! Because the bakery shop is mainly making custom cakes, there are not many cake slice choices for sale. I remember there are about five choices to be offered.
So I ordered a black sesame cake slice (~$7) on the day, this is very suitable for Asian tastes, and the cake texture is very soft! Not bad! It reminds me of the cakes that I used to eat in Hong Kong, and they are very fragrant. The taste of sesame seeds is very solid. The appearance is also beautiful.
In addition to the food, the environment there is good! It is minimalist, the decoration is mainly white and wood colors, the color is soft, and it is very comfortable! Although it is a small shop, the seats are pretty spacious.
The last thing to mention is that there are not many parking spaces in the store, and the Fruit Grove train station is nearby, so I believe that office hours of Monday to Friday, the nearby street parking spaces will be almost full, so everyone should be aware of parking. We didn't have this problem on Saturday when we went there. A lot of parking spaces are in the train station are very convenient!
The cakes in this shop are delicious. So if someone has a birthday next time, they will go there to order cakes and try their real skills!
Adress:Shop 3/83 Mango St, Runcorn QLD 4113
Business Hours: Wed-Sun, 11am to 5pm