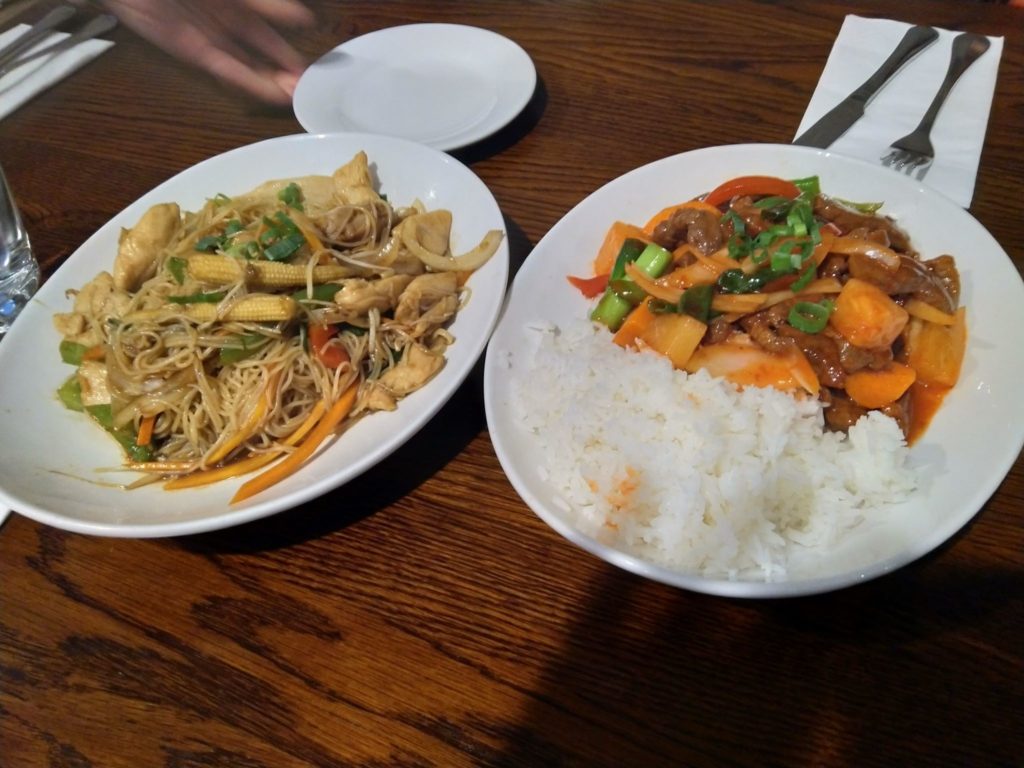 Usually, my dearest dad takes mother and me for our once weekly dinners out every Sunday. However, I told dad that I couldn't have dinner out with him tomorrow night because Origin Two was happening! Would he please take mother and me out for dinner tonight instead? Dad said yes!
We live around ten minutes away from The Sunnybank Sports and Community Club. Aside from pokie machines there's also a restaurant tucked deep within the building. The meals there are reasonably priced and the serving sizes are decent, leaving you satiated, if not full, after your meal. Dad prefers ordering two meals for three people.
There are nightly specials; since we often visit there Sunday, we know the Sunday special is a roast.
Tonight the two special dishes($15 each) were stir fry chicken with rice and fried vermicelli with beef. Perfect; we didn't even need to check out the menu and just ordered those two specials for us.
Usually we all just drink water but suddenly tonight dad orders himself a Jim Bean Whisky and Cola! Mother and I both sneak sips from the bottle~
Our food arrives promptly and we all tuck in. Somewhere in the distance, applause can be heard; there's live entertainment tonight!
The Sunnybank Sports and Community Club hires decent chefs because the white rice we were served tonight was soft and delicious. Often, when Westerners attempt to cook rice with a saucepan, the rice comes out hard and crunchy, eww!
Perhaps we'll come back here for dinner again after the mighty Maroons have taken out the Origin series!
Notes:
Kid Free – Monday to Thursday – Get a free kid mealm,purchasing a main meal from the a la carte menu
$9 Roast Dinner on Sunday
Address:
Sunset Bargrill
Sunnybank Community and Sports Club
 470 McCullough St,
Sunnybank
QLD 4109