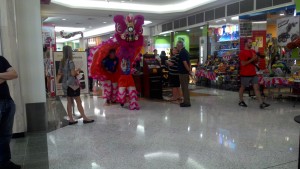 I have not realized today is the new year eve of Chinese New Year. Most of the Chinese in Brisbane live in Brisbane southside. Thus, we have a few of Chinese New Year Celebrations, although they are smaller scale than those in Sydney and Melbourne, I know there will be street markets and dragon dance. Our Chinese New Year Celebrations are mainly in Sunnybank Plaza and Grand City; those are the major shopping malls in Southside.
For Sunnybank Plaza, there will be kung fu and lion dance performances in front of the cinema at 10:30 every day from today to this Sunday and ice sculptures at 2 p.m today
There are also lion dance performances at Graden city between 16 and 18 /2 and fireworks at 8:00 pm on New Year's Day. There are also lion dance shows in some smaller shopping malls in Southside. You can watch out for any announcements in your nearby shopping malls.
I wish you all a Happy Chinese New Year
Sunnybank Plaza
15/2
10:30am kung fu and lion dance performances
2pm ice sculptures
16/2
10:30am kung fu and lion dance performances
17/2
10:30am kung fu and lion dance performances
18/2
10:30am kung fu and lion dance performances
Graden City
16/2
11am lion dance performances(Level 2)
2pm lion dance performances(Level 1)
6pm至9pm Live Entertainment (Town Square Restaurant Precinct)
8pm Fireworks Display(Town Square Restaurant Precinct)
17/2
11:30am至1pm Chinese Carol
12pm kung fu and lion dance performances(8 Street)
1pm Live Entertainment (Level 2)
4pm Live Entertainment (Level 1)
18/2
12pm kung fu and lion dance performances(8 Street)