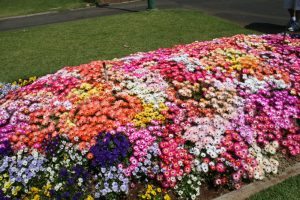 Spring has arrived, the weather began to get wammer, that is flowers blooming season.
In fact, this week has a flower related event in Toowoomba where is 130 KM from Brisbane; that is one and a half driving. From today (16/9) to September 24, Toowoomba holds its annual event, Toowoomba Carnival Of Flowers
The Chronicle Garden Competition
Same as previous years, you can visit the winners home garden The Chronicle Garden Competition. Their award-winning gardens are charming. Those homeowners have spent a lot of effort to design and work on their garden. Moreover, some of the gardens are not small; they can compare with those public botanic gardens. For the full address of those award winning gardens, please go to Toowoomba Visitor Information Centre. If you are willing to spend some fees, you can join bus tours to visit those gardens. Again, the further information about the bus tours can be found in Toowoomba Visitor Information Centre
Queens Park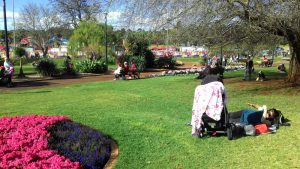 Of course, going to Toowoomba Carnival Of Flowers, we must visit the main venue of this event, Queens Park. There are a lot of beautiful flowers, and there are some rides and live performances. However, the parking spot close by are limited. You need to prepare more time for paring.
USQ Japanese garden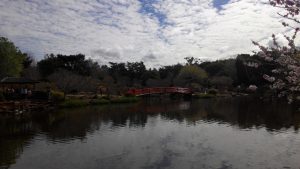 Another good place is USQ flowers Japanese garden. Likewise, there are many beautiful flowers in full bloom,but in a Japan Style.Just looking at the photo, I thought I had gone to Japan.
Grand Central Floral Parade Float Parade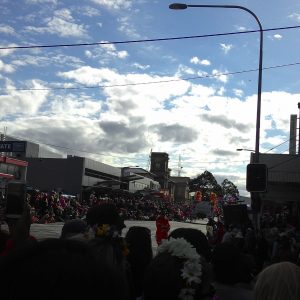 Another flagship event is held in at 3:00pm on 17 September  Grand Central Floral Parade parade. By then, there will be hundreds of flowery floats winding around Queens Park. Scenes are great.
Toowoomba Picnic Point

If you go to Toowoomba, you should visit Picnic Point. Although there are not too many blooming flowers, there are some beautiful scenes to see. There is a lookout with panorama view of Toowoomba
Although we had some heavy rains yesterday, today the weather has been nice. So Toowoomba Carnival Of Flowers is a good family activity for this weekend.