In the second floor of the new wing of Garden City, just outside Myer entrance,  there is a new café, Le Bon Choix. Their shopfront is quite pretty, so we always want to try.
At earlier of this month, my wife and I got a chance to have a morning tea in there, bought two cups of coffee and two cakes. They tasted good and looke very beautiful, especially that piece of chocolate cake.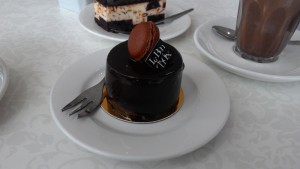 Chocolate surface is very fragrant, and I love the soft texture inside. It has a mini macarons on top. It looks really very special and delicate.
Everything is good, but the price is not cheap,  we spent more than $ 20 on that morning tea.
Address: Level 2,
Westfield Garden City,
Kessels Rd and Logan St,
Upper Mt Gravatt
QLD 4122
Tel: 07-32192722