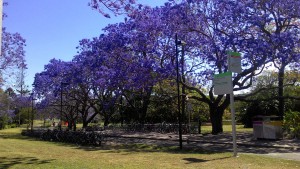 There is a kind of beautiful purple tree in Brisbane. That calls Jacarandas, Moreover, during these few weeks, that is the full bloom of the purple flowers from Jacarandas. It got an interesting name, "Exam flower". It got full bloom during the exam period of university. In addition, this kind of tree is common in Brisbane, you can see a lot of purple tree along the roads or in parks such as New Farm and Botanic Garden. For me, I like to go to UQ Lakes at University of Queensland St. Lucia Campus.
Last Saturday, I went to there for watching this Purple Rain. That was quite magnificent. There is a corridor near the bus station, both sides along the pathway have Jacarandas. I felt like in Japan, the sky turned to purple. That was so nice. I recommend that is a family activity.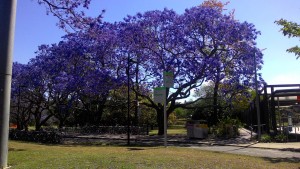 UQ Lakes got a large grassland. Your family can have a picnic in there and enjoy the scene of purple rain. Lastly, the car park near UQ Lakes are free to park during Saturday and Sunday. Please do not miss that.