Today is  a holiday, that is ANZAC Day, which is a national day of remembrance in all Australians and New Zealanders who served and died in all wars, conflicts, and peacekeeping operations.
I think the most appropriate activity is watching the ANZAC Parade. There are many service men and women taking part. Also, the ex-service men and women since War World II are in the parade squadron.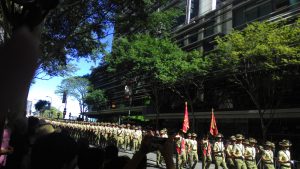 That is a good activity to learn Australian History.
Besides this activity, actually many other activities you can, the most of stores won't open to allow their staff for watching the Parade. If you want to do some shopping today, you will be disappeared.
For the activities you can do during the ANZAC day, maybe, that is good to have a good walk in a national park. There are many beautiful national parks around Brisbane, Sunshine Coast and Gold Coast. Some of my friends went out to a national park today for having some fresh air.
Rather than those activities, I think this is having a break at home. This activity is I and my wife chosen.